10,000 Missions for Air Ambulance
10,000 Missions for Air Ambulance
Tuesday, 10 June, 2008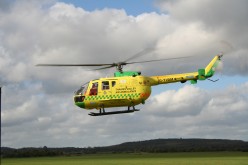 The Thames Valley & Chiltern Air Ambulance (TVAC) has reached a remarkable landmark having flown its 10,000th mission last weekend.

The RAF Benson based emergency helicopter passed the magic number of missions last Saturday when it was called to a three vehicle traffic accident just North of Aylesbury on the A413, a patient was flown to Stoke Mandeville hospital with multiple injuries.

TVAC was established in 1999 as one of six air ambulance charities sponsored by the AA for a period of three years while the charity itself was incorporated in 2000.

TVAC's chairman of Trustees Colin Lee, said: "This is a milestone in the Trust's history and one that we are intensely proud of. It is a testimony to the people of Berkshire, Oxfordshire and Buckinghamshire whose generosity has kept us flying all these years.

"10,000 missions represents a huge number of lives saves and that is a very humbling thought. It keeps driving us forward and gives meaning and context to the phrase we are using to describe our fund-raising efforts - ' We rely on you so you can rely on us'."

TVAC is expecting delivery of a new emergency helicopter in July. The new aircraft is an EC135 Eurocopter especially fitted out for air ambulance duty and has many advantages over the aging Bolkow 105 currently funded by the charity and deployed by South Central Ambulance Service.

Colin Lee added: "Our new helicopter means we must redouble our fund-raising efforts to ensure we provide the very best emergency service for those people who pay for it.

"The new aircraft has many innovations which improve our service, the most significant perhaps being that the EC135 had an additional seat - for a parent or carer can to accompany a sick or injured child and any medical profession will tell you just how significant this can be.

"It is a wonderful machine and I'm in no doubt it will fly another 10,000 missions for us"

Anyone interested in seeing the new EC135 Emergency helicopter can get a good look by visiting the Ferrari Funday at Newbury Showground on Sunday 20 July which is raising funds for TVAC www.ferrarifunday.co.uk

The new EC135 will also be based at RAF Benson and will be liveried in a distinctive red and yellow colour scheme, with a new registration of G-HBOB reflecting the counties it serves.