Health awards for LAS
Health awards for LAS
Tuesday, 03 June, 2008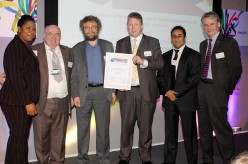 From left to right; Laurna Antoine, Paul Webster, Malcolm Alexander (judge), Richard Webber, Rony Zaman, Bill Fairclough

The London Ambulance Service has two reasons to celebrate, following the regional finals of the Health and Social Care Awards.

Its Fast Response Electronic Dispatch for Ambulance - or FRED(A) - won an award in the Innovative Information & Communications Technology category and will now be entered into the national finals to be held in July.

FRED(A) is a system used in the Service's Emergency Operations Centre which automatically dispatches the nearest available fast response car or ambulance to the most serious (Category A) calls.

The Service was also involved in another award-winning project - this time in the Adopt, Adapt and Improve category.

'Getting the Right Treatment' is a scheme developed with Tower Hamlets Primary Care Trust to reduce the number of A&E admissions in the borough. It uses a DVD, produced by Media Resources Manager Richard Walker, to instruct people when it is best to call an ambulance or use another more appropriate healthcare option.