Elvis Is In The Building!
Elvis Is In The Building!
Monday, 28 January, 2008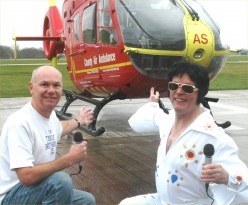 Elvis Presley is apparently alive and well - having visited the base of County Air Ambulance at RAF Cosford in Shropshire on the day the 'King' of rock and roll celebrated his 73rd birthday.

In truth, it was two well known Staffordshire impersonators, Phil Keates and John Steele from Leek in Staffordshire, who have made it their business to keep the Presley legacy alive in pubs and clubs across the north Staffordshire area.

The 'Tickle Brothers' as they are known, have raised over £800 for County Air Ambulance from prizes, raffles and performances and they were invited to present the donation and give an impromptu show to the duty flight crew at the helicopter base.

Speaking about the visit, Steve Parry, spokesperson for County Air Ambulance said, "It is not often that we can say Elvis is in the building. I am sure the great man himself would have been proud of their fundraising efforts on behalf of County Air Ambulance".

Phil Keates said on behalf of the duo, "We are very impressed by the vital work carried out by County Air Ambulance and we wanted to show our appreciation with a donation to the Charity."