Ambulance Chief Executive To Retire
Ambulance Chief Executive To Retire
Monday, 28 January, 2008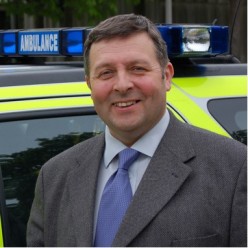 The chief executive of the East of England Ambulance Service has retired for medical reasons.

Dr Chris Carney stepped down last month following back problems which have required surgery twice in the past 18 months.

After joining the former East Anglian Ambulance NHS Trust in 2000, Dr Carney worked with a largely new executive team to turn the service around from a failing Trust to one of the most respected and innovative ambulance services in the country. In 2006, he oversaw the merger and initial months of the new regional service which brought together East Anglia, Bedfordshire and Hertfordshire and Essex into the new East of England Ambulance Service, before developing the back problems that caused his departure from active service in February 2007 and, ultimately, his retirement.

During his career, he contributed nationally to the development of paramedic education and co-authored the first national clinical guidelines. He was also involved with the development of the Emergency Care Practitioner role in East Anglia.

Dr Carney said, "I have had an unusual career, initially as a clinician and then on the other side of the table as a senior manager in ambulance services. I was drawn to the ambulance service by the 'can do' attitude of ambulance staff and their managers and have been continually impressed by the willingness of our staff to cope with continual changes, both clinically and in their working practices, to provide better care for patients and their carers. I am grateful for their comradeship and support over many years now and will miss them all greatly. I wish the new Trust well for the future."

Trust chair Maria Ball added, "The Trust would formally like to thank Dr Carney for his leadership and contribution to the establishment of the new Trust. He has made a valued impact on clinical practice for paramedics at a national level and has a unique insight into emergency care, gained from his varied background. On behalf of the Trust Board - and I am sure the staff - of the East of England Ambulance Service NHS Trust, I would like to wish Chris every success for the future and, hopefully, improving health." Hayden Newton will continue as interim chief executive until a successor has been appointed.