Your current location:
KEY WORKERS QUEUE IN RAIN TO SECURE DISCOUNTED HOMES AT HARMONY
KEY WORKERS QUEUE IN RAIN TO SECURE DISCOUNTED HOMES AT HARMONY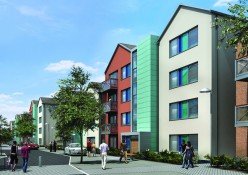 At the beginning of November 2009, Notting Hill Home Ownership launched phase one of Harmony, a new vibrant residential development in West London. Thirty-four apartments were released for sale, exclusively for key workers and were sold on a first-come, first-served basis.

The reservation day saw over 25 people queuing overnight from 7pm Saturday evening to be the first in line at 9.30am Sunday morning, when the homes went on sale at a fraction of the market price. Twenty-two of the discounted homes were reserved. Purchasers were mainly first-time buyers wanting to get on the housing ladder from North-West London, West London and South-West London.

As part of the London Wide Initiative (LWI), a government-backed scheme designed to enable key workers to buy their own homes, Notting Hill Home Ownership has provided key workers throughout London with a brand new opportunity to buy affordable housing in thriving West London. Developed as a joint venture between Inspace Homes, Notting Hill Home Ownership and the Homes and Communities Agency, Harmony is a development of 280 mixed-tenure one, two and three-bedroom apartments on the site of the former West Middlesex Hospital on Twickenham Road in Isleworth.

Homes under the LWI scheme are available to key workers who live or work anywhere in London and have a household income of less than £58,600. Unlike shared ownership schemes, where purchasers pay both a mortgage on their share of the property and rent on the part retained by a landlord, key workers buying through LWI do not have to pay anything to finance the government's stake and will have 100% ownership of the property yet benefit from a significant discount off the full market value. When owners sell their home, a share of the sale proceeds will be repaid to HCA based on the current market value.

Mark Vaughan, Director of Home Ownership for Notting Hill Housing comments: "Key workers are an absolutely integral part of London's workforce and I am delighted that through the London Wide Initiative, we are now able to offer them the chance to buy their own home in Harmony. We are delighted with the number of people that attended on Sunday."

A total of 280 apartments are available at the scheme, with 80 for sale through the LWI scheme, 35 for sale through New Build HomeBuy, 59 for social rent and 106 for private sale through Inspace Homes. Of the 80 key worker homes available at Harmony, there will be 32 one-bedroom, 42 two-bedroom and six three-bedroom apartments.

For further information on Harmony visit www.nottinghillhousing.org.uk/harmony or call Notting Hill Home Ownership on 020 8357 4444.