Your current location:
Bucking the Bijou Trend at the Bottle Store
Bucking the Bijou Trend at the Bottle Store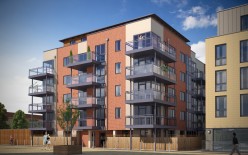 Buyers of Family Mosaic's apartments at the Bottle Store in Stockwell, London SW9, will be getting more for their money — quite literally! The collection of new shared ownership apartments are bucking a trend noted in a new report by the Royal Institute of British Architects (RIBA), which points out that the average size of a new home in the UK is 76 sqm, making British homes the smallest in Europe. Most of the two bedroom apartments at the Bottle Store measure over 86sqm and the two 3 bedroom properties have 94 sqm of living space.
RIBA's findings show that the average British home has shrunk from 85 sqm over the past 30 years. Throughout Europe, homes are 15% bigger on average than in the UK; in Scandinavia they are 80% larger.
Lauren Nicholson, Head of Marketing at Family Mosaic, comments: 'Attention to space and planning is just as important as style and affordability. Size is always a major consideration for anyone buying a new home, and with clever planning, careful design and integrated storage The Bottle Store really utilises the space on offer. The Bottle Store continues our track record of offering excellent value for money; it's a place where spaciousness and affordability go hand-in-hand.'
Handy for Stockwell underground and moments away from buzzing Brixton, the Bottle Store's 14 affordable apartments do not compromise on location, style or quality. Kitchens are fully fitted with Zanussi appliances, including a fan oven/grill, 4-ring gas hob, washer/dryer and fridge/freezer, further minimising the cost of setting up home. The living areas are fitted with high-quality oak laminate flooring, while the bedrooms have 80%-wool carpets throughout. With sleek white suites, ceramic floor tiles, chrome-plated fittings and a heated towel rail, the bathrooms combine luxury and practicality.
Some apartments have generous balconies and parking spaces, and all share a beautifully landscaped communal garden. The development is located just off Stockwell Road, less than a 10-minute walk from Stockwell underground station and Brixton underground and overground, meaning that Northern and Victoria Line services are on hand for fast access into central London.
Nearby Brixton is one of the most culturally dynamic areas of London. At its heart is Brixton Market, a fantastic array of stalls offering everything from exotic foodstuffs to fashion and described by Time Out as a 'sensory fiesta'. In the covered arcades of Brixton Village you'll find a tantalising range of eateries which constitute one of the most diverse and exciting gourmet scenes in the UK. The area's stimulating scene also includes the Ritzy Picturehouse and a variety of live music venues, including the Brixton O2 Academy.
For relaxation and open space, the leafy expanses of Clapham Common are an easy walk — or a short bus ride — away. The Common's three ponds, tennis courts, all-weather games area, bowling green, skate park and sports pitches ensure plenty of activities catering to all tastes; or, of course, there is simply the tranquility of the open space and magnificent trees.
Applications for buying under the shared-ownership scheme will be considered from households with incomes of less than £66,000 per annum for one- or two-bedroom properties, or less than £80,000 per annum for three-bedroom properties. Priority will be given to those living or working in the London Borough of Lambeth.
Prices at The Bottle Store start from £82,500 for a one bedroom apartment based on a 30% share of the full market value of £275,000. Two bedroom apartments start from £115,500 for a 30% share of the full market value £385,000. For further information please contact 020 7089 1315 or visit www.familymosaicsales.co.uk