Your current location:
Taking responsibility for water safety
Taking responsibility for water safety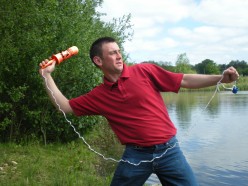 The time has come, after 40 years, to decide who carries the responsibility for effective water rescues.
In 1973 John Rinfret invented his unique throwing line, named the Balcan Emergency Lifeline (BELL), which was designed to allow anyone to throw it with considerable accuracy to the best of their ability up to its full length of 40 metres.
Launched and first trialled on the pool at the 1974 London Boat Show, it was quickly recognised as a vast improvement on all traditional types of lifesaving equipment, due to its greater length, and has since sold thousands of units globally and remains superior to other modern throwing lines which reach only 20 metres.
Naval trial
Since its launch, Balcan has received numerous reports of rescues that could not have been performed without using the BELL, due to the casualty's distance from the shore and difficulty in reaching with alternative equipment. This resulted in the Naval Support Command expressing a wish to trial BELLs on behalf of The Royal Navy in 1999, and subsequently saw these benefits highlighted to organisations nationally.
The Armed Services
Shortly after, the BELL was allocated Nato Stock Numbers (NSNs) for all three of the 40-metre models, because of their accuracy, length,
compactness and ease of use. BELLs were used by the special services during the Falklands conflict and have been used by The Armed Services ever since.
The variety of rescues reported to Balcan have shown (all in excess of 20 metres) that the distance a line can be thrown is the vital aspect of effective lifesaving equipment and proves that BELLs make all other throwing devices obsolete. Rinfret raises the moral question as to who has the right to decide to issue and use equipment that cannot achieve the simple rescues that could otherwise be achieved with the proven, much longer, reach of the BELL.
Lives still being jeopardised
This said, 40 years later, ineffective equipment is still being used across the country to attempt water rescues. With this in mind, Rinfret is suggesting that BELLs should be used by all organisations involved in safety and rescue activities.
"There is an obvious difference in attempting a water rescue using a 40 metre lifeline and using a 20 metre line," comments John.
"Despite this, few FRS organisations include BELLs in their safety kits – jeopardising the lives of those in danger of drowning.
"This led me to writing a letter to a regional Coroner, following a winter drowning incident, explaining that a BELL could have been used with its much longer range of 40 metres to effectively attempt the rescue and prevent the drowning."
"This letter was passed on to the manager of the FRS who replied with a specification of the BELL to explain why fire and rescue services across the UK did not widely use them. He claimed the BELL line sank, which it doesn't because it is made of polypropylene and is vetted by Bureau Vertias on behalf of the MCA -Marine Coastguard Agency."
"A drowning victim's life depends on proven length, accuracy and performance of rescue equipment and issuing lines with limited distance is imprudent when you could be using one with a longer range. When currents and temperature take their toll and time becomes of the essence, you need to quickly and effectively reach a casualty. Without the right equipment, this is unachievable.
"With this in mind, I'm calling for rescue services across the country to think about their rescue kits and ask the question – can I reach a casualty quickly, effectively and safely using my standard equipment? If the answer is no, maybe the time has come to change practices and look towards different apparatus to safeguard correct and proficient rescue procedures."
• For further information please visit: www.throwlines.com