Your current location:
Ring Carnation launches new configurable keypad
Ring Carnation launches new configurable keypad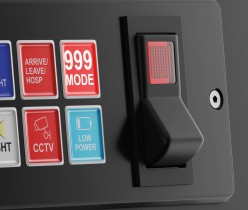 Through its knowledge of vehicle electronics and the requirements of the blue light sector, the new keypad range developed by Ring Carnation enables a bespoke set of functions for commercial vehicles and emergency fleets.
Richard Morley, director at Ring Carnation, said: "Our power management portfolio serves the mission-critical, blue light vehicle sector, and the latest range of customisable, configurable keypads enable key functions with enhanced usability."
Designed to be used with Ring Carnation's genisys range of switching and power management systems, the new configurable keypad is customisable with various options to meet fleet requirements, such as keypad layout, button sizes, and installer-insertable key legends.
The keypad can also be specified with a large 999 button on the control panel, or with toggle switches. The new-to-range product features an integrated LCD screen and rocker switch options, and slots into the DIN socket for easy installation.
Ring Carnation manufactures robust and reliable electrical management solutions – proven in the toughest environments – for all types of specialised emergency and commercial vehicles.
For more information about Ring Carnation, visit www.ringcarnation.com.