Your current location:
New technology kills COVID-19 in the workplace
New technology kills COVID-19 in the workplace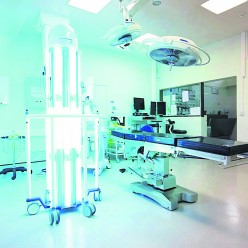 The coronavirus pandemic is a world-shattering event, whose far- ranging consequences we are only beginning to imagine and experience today. Just as this disease is shattering lives, disrupting markets and exposing the competence, (or lack thereof) of governments, it has already led to previously unthinkable changes in the way we are living.
Billions of us around the world are in self-isolation or working from home. We're learning about social distancing, how to wash our hands properly, wearing masks, and trying not to touch our face. But as UK lockdown restrictions are slowly being eased, the importance of safe, clinically clean areas for work, travel and leisure, has never been more critical.
Now, a UK company is offering a simple, but highly effective cleaning system, offering clinical levels of disinfection. In fact, the THOR UV-C Robot has a remarkable 99.9999% coronavirus kill-rate, and is increasingly being used all over the UK, from airports and hospitals to supermarkets, factories and shops.
Ian Rea, Managing Director of Anti Viral Clinical Disinfection says, "Imagine the consequences if your business was forced to close due to an outbreak of corona virus being traced back to your premises. Our service allows you to carry on trading with confidence, knowing that the remarkable power of THOR has been at work to kill the Coronavirus. After full disinfection we provide you with detailed disinfection reports and certificate, to show your customers that you are taking the most powerful action to create the safest environment for them."
The THOR UVC robot is the most powerful unit on the market. The bulbs used inside have been clinically proven to kill COVID-19, and there are 24 of them in every THOR UVC® unit. The THOR Robot is completely mobile, making it ideal for disinfecting offices, shops, salons, surgeries, warehouses, factories, toilets and vehicles. Unlike other treatments, no room sealing is necessary, and no dangerous gasses are introduced.
Ian Rea said, "With two operatives with each visit, your room is also guarded so that no-one can 'sneak a peak', although we will happily show them how it works through a window, as it is perfectly safe to watch through glass. UVC can also be used on fabrics, carpets and curtains. We do suggest shutting curtains and blinds, to allow the UVC to reach as many areas as possible."
He added, "Most UVC systems cause shadowed areas, due to their large bases, and also as the lamps are fixed in a static position. THOR UVC® is unique, as the lamps go right from floor to ceiling. It raises robotically to more than 2 meters. This ensures that even hard to reach areas receive greater direct UVC light, and therefore kill and eradicate pathogens more quickly."
Since the start of the SARS CoV-2 pandemic, Dr. Anthony Griffiths, Associate Professor of Microbiology at Boston University School of Medicine and his team have been working on developing tools to support scientific advancement in this field. Dr. Griffiths said, "This is proven technology. Our test results show that above a specific dose of UV- C radiation, viruses were completely inactivated: in a matter of seconds we could no longer detect any virus."
THOR UVC® has been proven to kill other infectious pathogens as well as the coronavirus. These include Ebola, MRSA, Enterococcus, Norovirus, VRE, CRE, MERS, E.coli, Acinetobacter and C.difficile. The system is also remarkably fast. A typical office room/vehicle can be clinically disinfected in around 15 minutes, while larger premises such as warehouses, factories and supermarkets will take 2-3 hours.