Your current location:
Latest offering from SP Services
Latest offering from SP Services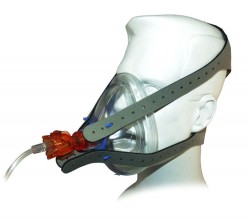 Telford based rescue and emergency equipment supplier, SP Services (UK) Ltd, is no stranger to the needs of the modern resuscitation professional and pride themselves on the quality of their products. SP know only too well that today's innovation can quickly become an indispensable tool of the profession in only a short time and are currently featuring the new O-Two CPAP with Adult Mask and Harness as one of their many new products in the new 2012 SP Services catalogue.

The CPAP system is a disposable respiratory aid device intended for use in the hospital and ambulance environments to provide non-invasive ventilation to the patient in respiratory distress.

When connected to a regulated oxygen therapy gas supply and attached to the patient via the face mask, the device provides a constant positive airway pressure in the patient's lungs throughout the respiratory cycle. This is achieved by selecting flow rates on the therapy flow control to create the desired rise in the baseline level.

Single-Use "Open CPAP" Delivery System provides incredibly accurate CPAP delivery for such a compact device and minimises pressure drop on inspiration and the peak pressure on expiration, thus producing a more uniform CPAP pressure throughout the respiratory cycle.

This CPAP system from O-Two is such a innovative design it was recently awarded the 2011 EMS World Innovation Award.

If you would like more information about the CPAP from O-Two or any of SP Services other products, please call their friendly customer services department on 01952 288 999 or visit their website online anytime at www.spservices.co.uk

SP's 2012 catalogue will be published in March but is available to download now from their website.