Your current location:
Just What the Doctor Ordered
Just What the Doctor Ordered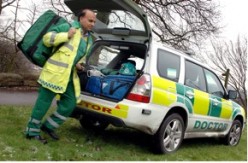 Just what the doctor ordered
General Practitioner Latif Hussain, of Newcastle-under-Lyme, Staffs, knows only too well how important a vehicle is when responding to emergencies in his work as a voluntary member of BASICS (British Association for Immediate Care).

As well as driving through the most difficult terrain such as muddy farm-yards and cow fields, together with driving rain and wind, a car's reliability can mean the difference between life and death.

A GP with 19 years' experience as well as a busy family life, Latif had to be certain the car he bought ticked all the right boxes - and the Subaru Forester certainly did that.

Dr Hussain said, "I have been a BASICS member for 14 years and when the call comes through you have to be sure your car will not let you down. Although I had looked at a variety of vehicles, the Subaru Forester combined everything I needed from a car, including versatility, great handling, comfort and style as well as offering great off road capability with the unique Subaru all-wheel drive system."

Although the United Kingdom has a very good road safety record compared with most other EU countries, as well as nations such as Japan, Australia and the United States, one of the most common causes of injury are road traffic accidents.

In 1977, BASICS (British Association for Immediate Care) was formed by a group of general practitioners following studies that suggested 40 per cent of pre-hospital deaths could have been prevented - if the right treatment had been available at the scene of the incident.

Now a registered charity, the modern BASICS doctors of today come from a wide range of specialities including accident and emergency, surgery and military backgrounds.