Your current location:
Fast-growing Rapid Response selects DAVIS to automate licence checking
Fast-growing Rapid Response selects DAVIS to automate licence checking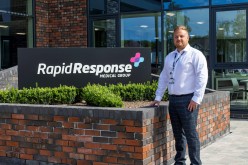 Mitchell Johnson Director of Ambulance and Clinical Services
Fast-growing Rapid Response Medical Group, one of the UK's leading emergency ambulance services, has switched to licence checking with the award-winning DAVIS platform from Licence Check, the country's top ranked licence checking operation, to automate all its driver licence checking processes, reduce risk and make them more time efficient and cost effective.
Based in Cannock, Staffs, Rapid Response, a Care Quality Commission registered ambulance service and member of the Independent Ambulance Association, supplies private clients, the NHS and other ambulance services with high dependency and emergency transport, and organ and blood rapid transport.
The service operates from eight locations primarily in East Anglia and the South and also runs a fully equipped training academy at its head office. It is acknowledged as a leader in pre-hospital care, running a variety of training courses to paramedic level from a number of awarding bodies.
As demand for NHS services grows nationally, Rapid Response currently handles some 20,000 emergency calls a month and is recruiting around 20 new staff a month to try and keep up with demand.
The service has a fleet of 58 medical vehicles, mainly specially adapted Renault Masters, 11 cars and two vans, but currently has a further 55 new vehicles, mainly conversions around a MAN Box Chassis, on order to cope with the growing demand.
Prior to appointing Licence Check, the service relied on manual licence checking systems via the DVLA but found these too time consuming, labour intensive, costly and prone to error.
Mitchell Johnson, Director of Ambulance and Clinical Services, said: "The idea that manual licence checking systems are cost and labour saving is a total misconception. We have switched from a manual system to the DAVIS platform and have been extremely happy with it.
"We like its ease of use, the fact that its fully automated and we can set our own risk policy within the system. It's also cost-effective and labour saving, while another USP is that we receive great support and help from Licence Check staff, which is free of charge as it's all part of the package.
"We also like the the daily email alerts which are part of the exception reporting dashboard to highlight areas where we need to take management action.
"As DAVIS has worked so well for us, we don't hesitate to recommend it to clients such as NHS Trusts as, being a very technologically aware business, we believe it's a gold standard way of working," he said.
"We are audited by the CQC and the NHS on a regular basis to ensure we meet compliance standards, so we wanted a robust driver licence checking system that we could rely on, and DAVIS has provided exactly that," he added.
Rapid Response currently has around 350 drivers on DAVIS (Driver and Vehicle Information Solution) and expects that to grow to 400 by the end of the year as it continues to expand.
Every new driver who joins the company has to undergo a driving assessment from the three-strong driver education team of dedicated blue light driving instructors. If they are then recruited, they are added to DAVIS using the e-approval system, although Rapid Response is also considering introducing the On-Site onboarding of drivers which enables them to add drivers to DAVIS face-to-face at a single location or site.
All existing drivers undergo quarterly driving licence checks, with permission processed via email, which requires little intervention from the system user other than adding the driver's name and email address into DAVIS.
The system manages the entire permission process, emailing drivers directly until permission for a check to be carried out is gained by a digital driver declaration. As automation is central to DAVIS, drivers are auto-reminded until the declaration is complete, so busy managers aren't required to continually chase and follow up. Once in place, the permission exists for three years, meaning rechecks can be carried out instantly without any intervention or delay.
Those drivers at high risk, based typically around the number of points on their licence, undergo Licence Check's e-learning courses, which focus on four key areas of risk: driver attitude, hazard perception, observation and knowledge.
Derby-based Licence Check, part of the Ebbon Group, was officially confirmed in the Driver and Vehicle Licensing Agency (DVLA) annual figures as the UK's number one licence checking business in July, after it was confirmed it had recorded a total of 851,092 licence checks through its DAVIS between April 2021 and March this year.
This was the highest of any licence checking business in the UK and a 28% increase over the previous year.
Managing Director, Keith Allen, said: "Rapid Response is seeing a number of real benefits through the use of DAVIS to automate its driving licence checking processes and manage its driving risk.
"Given the nature of its business with a high number of emergency calls, occupational driving obviously poses one of the highest risks to the service, so it makes perfect sense to go down a fully automated route," he said.